View on BBQGuys.com
Planning out the design of a new patio living space can be a very exciting, yet challenging time. Whether you're building your new backyard oasis or updating your existing space, there is a always a balancing act between "What do I want?" and "What is realistic?" There is a sort of an art to hitting that sweet spot, and it will vary from person to person, but hopefully I can give you a little insight to get you started.
Patio Budget
Even if we don't like to admit it, we all have a budget when we make a major purchase, whether it's an outdoor TV or a party bar for entertaining. The important thing to remember is that with patio furniture, like anything else, you need to think about quality as well as cost. Quality patio furniture and patio accessories will last for many years and are well worth the additional cost. Determine the most you are willing to spend on your patio furniture and then find the patio furniture set, outdoor lighting or patio storage that gives you the most quality for your money.
"...consider what your patio will be used for most of the time."
Knowing My Patio Space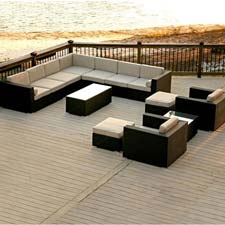 An outdoor patio is typically designed for a specific purpose. Before selecting materials, accessories, or any other outdoor decor, consider what your patio will be used for most of the time. The first step to finding the perfect patio furniture setup for your outdoor living area is to understand the size and the space available for your patio and decide on the best features for the area you are using. Think about sunny areas for maybe poolside seating or a covered retreat to escape the midday heat. Outdoor kitchens are also great features and need to be taken into consideration when planning.
Space and size are very important because while you may have fallen in love with the seven-seat lounge set, if your patio isn't big enough, you and your guests will end up feeling cramped. On the other end of the spectrum, if you have a spacious deck or patio, you will probably want a larger patio dining set or patio conversation set as opposed to a smaller bistro set. Your patio design is the main part of creating your ultimate enjoyable and functioning outdoor living space. Whether you're sitting poolside, warming up near the fire, entertaining, or just relaxing and enjoying the outdoors, your patio is essential to your landscape design and will become significant to the way you enjoy your outdoor space.
View on BBQGuys.com