View on BBQGuys.com
New Orleans Style BBQ Shrimp Recipe on a Grill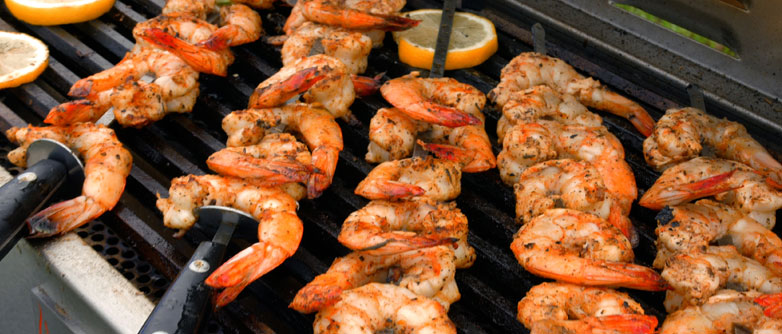 New Orleans Style BBQ Shrimp is one of Chef Tony's childhood favorites. Learn how to make this dish with a homemade creole sauce, served on grilled French bread.
PREP

10

mins
COOK

35

mins
READY IN

45

mins
Ingredients
1 1/2 Lbs Colossal Shrimp
1-2 Loaves French Bread
1/4 cup fresh chopped parsley
1 1/2 sticks butter


Marinade:
2 T. Creole seasoning blend
1/4 cup extra virgin olive oil
1 T. lemon juice
3 cloves garlic paste
1/2 cup dry white wine


Sauce:
1/4 cup roasted garlic powder
2 T. onion powder
1/4 cup dry white wine
1 lemon, quartered
1 bay leaf
1 T. Creole seasoning blend
1/4 cup Worchtershire sauce
1/4 cup Old Bay Seasoning
1/2 tsp. fine ground black pepper
Salt, to taste


Creole seasoning blend: (Makes about 1 1/2 cups)
1/4 cup roasted garlic powder
2 T. onion powder
1/4 cup dry basil
2 T. dry thyme
1 T. cayenne pepper
3 T. paprika
2 T. dry rubbed sage
1 T. dry lemon peel
Directions
First, peel and devein your shrimp, leaving the tails on. Reserve the peels for later, they will be used in the stock.
Prepare the Marinade: Combine lemon juice, extra virgin olive oil, creole seasoning blend, white wine, fresh garlic paste in a mixing bowl. Finish the marinade with salt and fresh cracked black pepper to taste. Whisk well to combine.
Add Shrimp to the marinade, toss well to coat. Set aside while preparing the sauce.
Prepare the Sauce: Add olive oil to the pan, saute the onion for 1.5 minutes over medium high heat. Next, add garlic paste, stirring frequently for about 45 seconds. Add white wine, Worchtershire Sauce,and a quartered lemon. Turn your burner to low and add shrimp peels.
Stir everything around and add creole seasoning blend, ground black pepper, old bay seasoning, and bay leaf. Stir and let simmer for 6-8 minutes. Finally, add white wine, and let simmer for 2 more minutes. Turn off burner, and begin prepping shrimp for grill.
Thread about 5 shrimp on flat skewers, leaving space between each so that they grill and do not steam.
Strain sauce into a bowl and press out remaining juices with spatula. Pour the strained sauce back into the pan and set aside.
Toast slices of french bread over a grill preheated to 350°. Grill for about 30 seconds per side until toasted.
Place your shrimp directly on the grids, of a grill set up for direct 350° heat. Grill them for 2-2.5 minutes on the first side and turn them over. Grill for 2 additional minutes on second side and remove the shrimp skewers to a pan or platter.
Bring sauce back to a simmmer, and add fresh chopped parsley. Stir and begin whisking in several pieces of cold diced butter at a time. Add the remainder of butter pieces and whisk until half way melted. Remove pan from heat and whisk until completely melted.
Add grilled shrimp to the sauce pan and stir everything together. Place french bread on plate, and serve shrimp over the slices of bread. Pour the sauce over the top of the shrimp and French bread, and enjoy!
Suggested Pairing
Wine: Chardonnay, Pinot Noir
Beer: Belgian Tripel Ale, Amber Ale
View on BBQGuys.com