View on BBQGuys.com
Seafood Macaroni and Cheese Recipe on a Primo Grill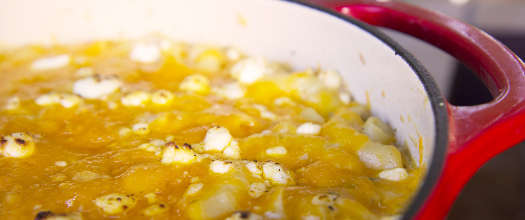 This deliciously-melty macaroni and cheese features fresh shrimp and lump crab meat baked into it. We load this casserole with six different kinds of cheese for a cheese-lovers delight. Perfect for the holidays, this dish serves 8 to 12 people and since the recipe calls for tapioca starch & arrowroot starch instead of flour, it can be modified to be completely gluten free if you use gluten free noodles!
SERVES

8 - 12

PREP

1

hour
COOK

30

min
READY IN

1

hour

30
Ingredients
1 lb. elbow pasta or gluten-free pasta
1 lb. large shrimp, shells reserved
1 lb. lump crab meat


Stock:
Olive oil (to coat the pan)
Reserved shrimp shells
Coarse salt, to taste
Black pepper, to taste
1/4 cup brandy
1/2 each yellow onion, puree
1 each shallot, puree
1/8 tsp Old Bay seasoning powder
1/2 cup minced carrot
1/2 cups minced celery
2 sprigs fresh thyme
2 to 3 cups water


Cheese sauce:
2 cups seafood stock
3 1/2 cups whole milk
1 cup heavy cream (reduce to 1/2 cup)
1/4 cup arrowroot starch
3 Tbsp tapioca starch
2 Tbsp reserved pasta water
Olive oil
1 clove garlic, paste
1/4 cup white wine
5 Tbsp unsalted butter
1 Tbsp coarse salt
2 tsp black pepper
1/2 tsp white pepper
1/2 tsp paprika
1/2 tsp dry thyme
1/8 tsp grated nutmeg
2/8 tsp cayenne pepper
1/4 cup dijon mustard
Extra sharp cheddar cheese:
3 cups for sauce
1/2 cup for layers
1/2 to 1 cup for topping
Greuyere cheese:
3/4 cup for sauce
1/4 cup for layers
Gouda cheese:
3/4 cup for sauce
1/4 cup for layers
Fontina cheese:
1/4 cup for sauce
2 Tbsp for layers
Parmesan cheese:
1/4 cup for sauce
2 Tbsp for layers
Goat cheese crumbles:
1/4 cup for topping
Directions
Begin by preheating your kamado grill or oven to 400°F.
Boil pasta and drain, reserving 2 tablespoons of the cooking water. Rinse pasta with cold water and set aside.
Fire roast the peeled shrimp for about 1 minute per side. Cool, roughly chop the shrimp so that you can lightly mix it with the crab meat, and set aside.
Coat the bottom of a large pan with olive oil, set it over medium-high heat and saute celery, carrots, onions, shallots & reserved seafood shells. Season with salt, pepper, old bay & thyme and let it simmer for 3 to 4 minutes. Add 2 to 3 cups of water, bring to a boil, and boil for 30 minutes.
Remove from the heat, pour into a strainer set over a large bowl, pressing out excess with a large spoon. Discard solids and set the stock aside.
Blend room-temperature whole milk, reduced heavy cream, arrowroot starch, tapioca starch, and white wine, then set aside.
Toss grated cheeses together in a large mixing bowl and set aside.
Set up your kamado grill for indirect cooking by placing the heat deflector plates below the cooking grids once the fire is established.
Place a pot on the grill and add butter & the garlic paste.
Once the butter melts, stir in the milk and starch mixture. Close the lid of the grill and allow the mixture to thicken.
Once thickened, add in the seafood stock from earlier and season with thyme, paprika, white pepper, cayenne, coarse salt, black pepper, and nutmeg.
Fold in the shrimp & crab meat, remove the pot from the grill.
Stir in the grated cheese blend until everything is just melted together. Do not overwork the mixture by stirring excessively.
Finish the cheese sauce by stirring in dijon mustard.
Butter the inside of a 6 quart, heavy casserole dish and add a thin layer of the cheese sauce.
Begin making layers by adding about 1 1/2 to 2 inches of pasta to the casserole, followed by a sprinkle of the shredded cheese blend and another layer of cheese sauce. Continue making layers until you are a half inch or so from the top of the casserole.
Add a final layer of cheese, followed by cheese sauce and finally top with the crumbled goat cheese & grated sharp cheddar cheese. Reserve the left over cheese sauce for the final plated servings.
Place in the oven or kamado set up for indirect convection baking and bake at 350°F for 15 to 20 minutes; just until the top is bubbly and browned.
Remove the casserole and either allow to cool and set up for 10 minutes, or cool completely and refrigerate over night.
Cut the casserole into slices, and reheat if refrigerated.
Serve and ENJOY!
View on BBQGuys.com