View on BBQGuys.com
The Ultimate Backyard BBQ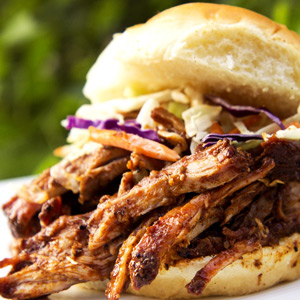 Chef Tony's Smoked Pulled Pork Shoulder
Get Organized (Planning)
Whether you're firing up the BBQ grill for the 4th of July or just having an all-American backyard BBQ, a good one requires some planning. You'll need to decide what's going to be on the menu, finalize your guest list and pick up a few essentials. If you need any outdoor equipment like pop up canopies, patio seating or patio tables, be sure to get them early. It's also a good idea to opt for food options that won't spoil easily. Incorporate the classics everyone loves, like potato salad and baked beans, with some original dishes they'll be talking about long after the party is over.
The Menu
Appetizer

Entree

Side Dish

Dessert
Fun Tips & Ideas
Create the ultimate build-your-own hot dog and hamburger bar.
Get creative with mini burgers – offer a variety of sliders for guests to try. See this Lamb Sliders W/Cucumber Sauce Recipe to get the creative ideas flowing
Snack on your centerpiece – Chop up vibrant fresh veggies using professional cutlery and put them in pretty jars and glass vases of varying sizes for functional table décor.
Place large trash receptacles around the party area so guest can dispose of their cups and plates.
Happiness is BBQ, friends & backyards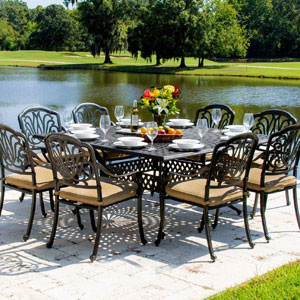 Rosedown 8-Person Cast Aluminum Patio Dining Set
Have A Seat (Accommodations)
Always make sure to have enough seating for your guests. A BBQ party allows you the freedom to invite more people than you could normally fit around your dining room table. Designate a few seating areas around the yard. Provide a few options and encourage people to choose their own spot to mingle, that's what a BBQ is all about! If you are throwing your BBQ party in an outdoor kitchen setting, outdoor bar stools are great for providing additional seating. For a smaller, more intimate gathering, you may want to dress up the outdoor dining table to create a somewhat formal atmosphere.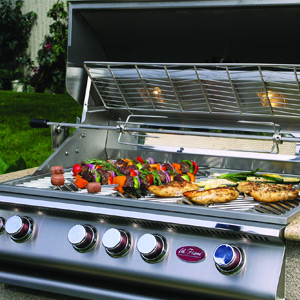 About the Grilling (Cooking)
Test out your BBQ grill well in advance- Make sure it's clean and in working order to prevent a last minute cooking dilemma. If you have a gas grill, be sure you have enough propane. Having an extra tank on hand is never a bad idea. Do you plan to use charcoal or wood chunks for smoking or flavor? If so, be sure you have enough on hand. If you are using specialty outdoor cooking equipment like a pizza oven, flat-top griddle or a kamado grill, be sure to check it as well. Keep your menu in mind and consider any other grilling gadgets or grilling tools you might need - grilling baskets for vegetables, skewers for kabobs or a digital BBQ thermometer. When the party starts, you want to be sure the grill, gear and food are all working together and ready to deliver excellent results.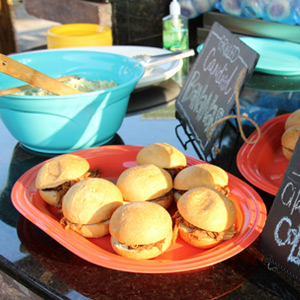 Serve everything family style in large bowls
Forget the Plating (Serving)
Serve everything family style in large bowls so guests can help themselves and look for serveware that functions as grillware. This will give you the flexibility to go directly from the grill to the table without dirtying anymore dishes. Don't forget plenty of paper plates, napkins and plastic utensils- if you plan to use them.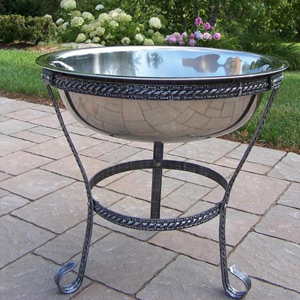 Beverage coolers jammed full of ice and drinks
Keep it Cool (Refreshments)
Make sure you've thought about keeping your company, and the refreshments, cold. Give guests something to mingle over by setting up a self-serve drink table or refreshment station. Avoid time intensive mixed drinks and go for ice buckets or ice chests jammed full of ice and canned drinks instead. Another great option is wine, it's perfect for pairing with food and there's something to make everyone happy. If it's going to be an all-day event where temperatures are likely to get steamy, consider incorporating some outdoor cooling devices into your party decor to tame the heat. Outdoor misting fans or portable cooling systems make the group comfortable and ready to take on any party games you have planned.
Fun Summer Cocktails
Bloody Mary

Drunken Fruit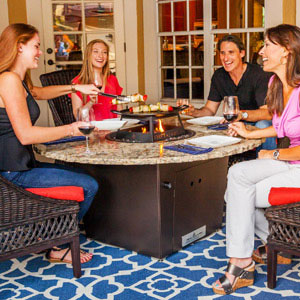 Firetainment Naples 54-Inch Fire Pit Table
Action-Packed (Fun)
Create a relaxed atmosphere with good music, unique fire features and games. Set up outdoor speakers in your party area and put together an energizing playlist ahead of time. Turn the sound up loud enough for the songs to be recognized, yet subtle enough not to disrupt conversation. Create a cozy fire pit area for when the sun goes down. There is nothing like the warmth and dancing flames of a fire to create an instant gathering spot. Provide a few different outdoor games to keep your party-goers entertained.
Backyard BBQ Favorites
View on BBQGuys.com