View on BBQGuys.com
Why Choose Fire Magic Grills?
For more than 80 years, Fire Magic has manufactured grills with superior technology. Every detail is meticulously planned to improve the customer experience and exceed expectations. Fire Magic's stylish grills are both beautiful and functional! All Fire Magic grills include heavy duty 304 stainless steel Diamond Sear cooking grids. They're trapezoid shaped to cook food faster and more evenly, offering more cooking surface than traditional cylindrical grids. These cooking grids are bead blasted for a non-stick surface and have a Lifetime warranty.

Echelon Diamond E790i 36-Inch Built-In
Echelon Diamond and Aurora Series Features & Benefits
Fire Magic's two main series are the Echelon Diamond and Aurora grills. They both have a long list of features and benefits, including 12-volt halogen lamps for nighttime grilling. This means you'll have plenty of light to see what you're grilling. These series also include LED back-lit control knobs with blue flame icons that turn red when the grill is on and changes in brightness as the temperature is turned higher. This is an awesome safety feature, reminding you to turn your grill off after use. The Echelon Diamond includes a stainless-steel Quantum rotisserie burner with rotisserie kit (different optional burner and kit on the Aurora), which is designed to apply heat directly to the food and not the rest of the grill. The optional Magic View Window can be used to keep an eye on your food without lifting the lid and letting out heat. The Echelon Diamond and Aurora grills are available with an analog or digital thermometer. The optional digital thermometer and meat probe will help you monitor grill temperature, set timers and reminders and determine the perfect doneness of your food. Both series include hot surface ignition, which is an integrated electronic ignition system that provides reliable lighting every time.
LED Back-Lit Control Knobs with Blue Flame Icons

Magic View Window with Rotisserie Burner and Kit

Digital Thermometer
with Meat Probe

Diamond Sear Cooking Grids and Hot Surface Ignition
Echelon Diamond Included Features
The Fire Magic Echelon Diamond series also has a few included features that aren't found on the Aurora. This series has a seamless contoured and ergonomically designed control panel that's both stylish and functional. On the Echelon Diamond series, you have the option to upgrade to an infrared searing burner for FREE. Heat zone separators allow you to cook at different temperatures across the cooking surface for more versatile grilling. A charcoal/smoker basket is also included with every Echelon Diamond grill. Additionally, you can add a custom laser inscription to personalize your grill. You can add your name, your favorite sports team slogan, or anything you desire. Feel free to get creative!
Contoured Control Panel

Charcoal/Smoker Basket

Infrared Searing Burner

Heat Zone Separators
Exceptionally Large Cooking Surfaces
When it comes to grills, it's important to have a large enough cooking area. Of course, how much cooking area you'll need comes down to the amount of people you typically cook for. The larger the cooking surface is on a grill, the more food you can cook at once. At the end of the day it's about getting a great meal to family and friends to enjoy, without having to make a bunch of batches of food.
The Fire Magic Echelon Diamond and Aurora 36" and 30" have the largest cooking area by square inch in their size class. The 36" models have up to 20% more cooking surface than the competitors 36" grills. As a matter of fact, even the 30" models have as much or more cooking surface than the competitors 36" grills. Take a look and compare for yourself.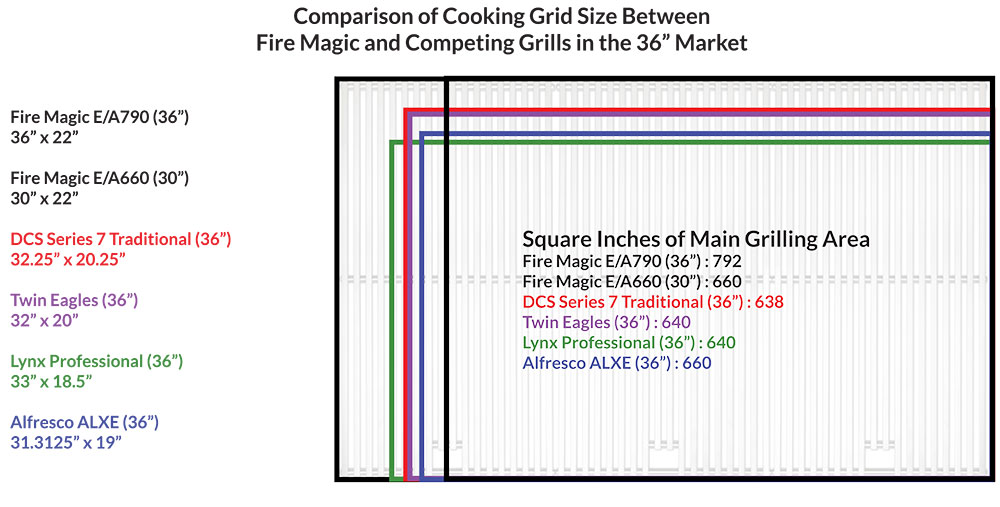 The Fire Magic 30" grills have more cooking surface than the competitors 30" models. Compare for yourself below.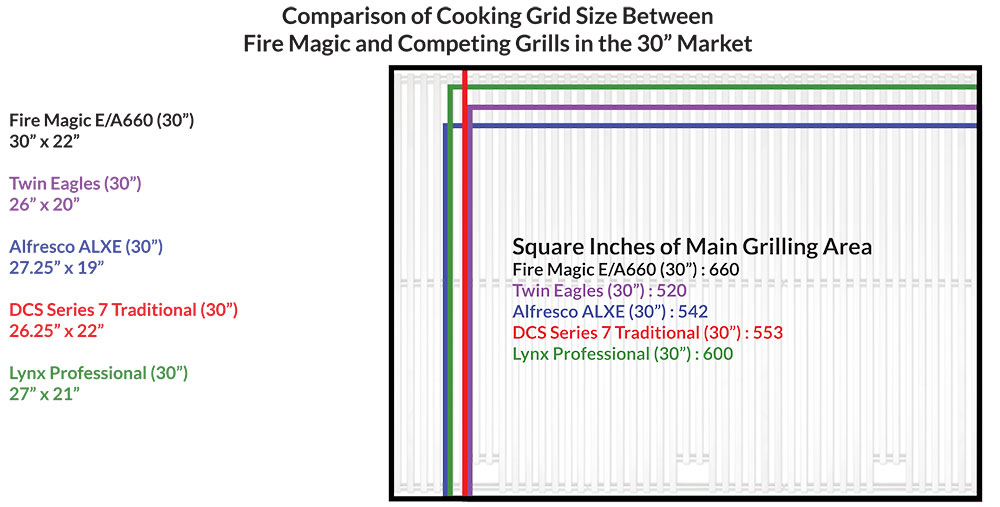 If you're looking for a beautiful, high quality grill that can accommodate large amounts of food at once, Fire Magic is for you. They've got the largest cooking grids in their respective size class, diamond sear grill grates, state of the art features, attractive design, and are proudly made in the USA!
View on BBQGuys.com