View on BBQGuys.com
Burners are the workhorse of a gas grill. Burners are measured in BTUs, and in general terms the higher the number the better. However, just because a grill has higher BTUs doesn't necessarily mean it has the best cooking performance. There are many other factors involved: square inches of grill surface, distance from meat to burners, etc.
Cast Stainless Steel
Superior quality, excellent rust resistance. Instead of welding stainless together to form a tube, cast burners are solid pieces of metal.
Popular brands: Blaze, Lion, Fire Magic, Bull, RCS Cutlass
---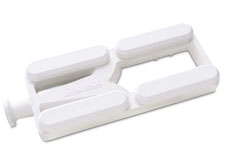 Ceramic
Ceramic burners will never rust and are more efficient in holding and radiating high temperatures than any other burner material.
Popular brands: Lynx
---
Stainless Tube
Quality material with good rust resistance. Many companies use stainless steel pipe bent to shape, and the best burners are made with 304 stainless steel.
Some manufacturers don't bend the stainless steel pipe, instead they have what is known as a "straight tube" burner.
Popular brands: DCS, Hestan, Alfresco, Sedona by Lynx, Aspire by Hestan
---
Cast Iron
Oldest style of burner on the market. Cast Iron is heavy-duty, but it's unprotected and could rust over time. Some manufactures use porcelain coating for extra protection.
Popular brands: Bull Outlaw Series
---
Stamped Stainless
This is a low grade stainless (not 304) where the top and bottom are stamped together.
Popular brands: Broilmaster
---
Infrared Burner
Capable of reaching super high searing temperatures (800°+ F). This type of burner is ideal for steaks but not slow cooking. Many upscale steakhouse restaurants use infrared burners.
While some brands offer an all infrared configuration, most manufacturers offer infrared burners as an option. You may purchase an infrared burner and replace it with one of the conventional burners. This is often called a "hybrid" configuration. Watch our video on the Benefits of Infrared Grills & Burners to learn more.
Popular brands: TEC, Solaire, Lynx
View on BBQGuys.com