View on BBQGuys.com
Buffalo Chicken Wings on the Grill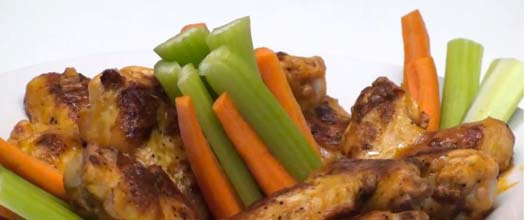 These buffalo wings are perfect for tailgates or football parties. Click on the link in the video to see Chef Tony grill these wings on a gas or charcoal grill. Chef Tony also shows you how to make several dipping sauces that are delicious with these wings.
PREP

15

mins
COOK

25

mins
READY IN

40

mins
Ingredients
4 lbs. chicken wings (tips removed)
1/4 cup extra virgin olive oil
1/4 cup Frank's Original Hot Sauce
1 garlic clove (minced)
1 T. lemon juice
1 tsp kosher salt
1 tsp cayenne pepper
1 tsp black pepper


Buffalo Sauce:
1/2 cup Frank's Original Hot Sauce
2 tsp apple cider vinegar
1 T. honey
1/2 cup melted butter (unsalted)
1 tsp corn starch (blended into butter)
Directions
Whisk to combine the first 7 ingredients, then add the chicken wings. Toss wings in sauce to coat thoroughly.
Place the wings into a plastic bag, and remove as much air as possible. Seal the bag and place in the refrigerator for 2-4 hours to marinade.
While the wings marinate, prepare the buffalo sauce. Set aside until after grilling the wings.
Pre-heat your grill for medium-high heat. (about 450°F)
Place the wings skin-side down on the grill. Grill about 5 minutes on one side and then flip the wings.
Grill about 10 minutes and flip once again. Be sure to check to see if the wings are cooking evenly, you may have to move them around on the grill.
After about 25 minutes, they should be ready to come off the grill.
Toss the wings in the buffalo sauce you have prepared.
The wings are now ready to be served with carrots, celery and any other dipping sauce you desire.
Suggested Pairing
Wine: Zinfandel, Pinot Noir
Beer: Amber Ale, American Pale Ale
View on BBQGuys.com