View on BBQGuys.com
Whole Ribeye Roast Rotisserie Recipe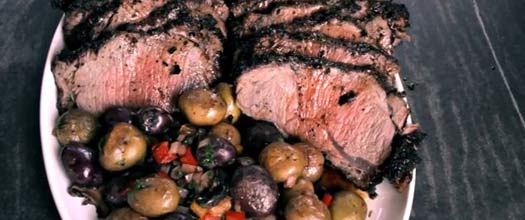 Learn how to prepare a delicious ribeye roast using the rotisserie on a gas grill. The greek seasoning blend enhances the flavor of the meat and the vegetables bring it all together for a delicious meal for any occasion.
PREP

15

mins
COOK

1

hour

20

mins
READY IN

1

hour

35

mins
Ingredients
10-14 lbs. Whole ribeye roast
Extra virgin olive oil
1 1/2 cup greek seasoning blend
3-4 cups red wine
3 cups beef stock
2 yellow onions, roughly chopped
2 yellow bell peppers, roughly chopped
2 red bell peppers, roughly chopped
2 pints sliced baby bella mushrooms
3-5 lbs. fingerling potatoes
1 bunch fresh parsley


Greek seasoning blend (makes about 6 cups)
3/4 cup kosher salt
1/2 cup + 2 T black pepper
1/2 cup garlic powder
3/4 cup oregano
1/4 granulated sugar
1/2 cup onion powder
1/4 cup thyme
1/2 cup basil
1/2 cup marjoram
1/2 cup rosemary
1 T cinnamon
2 T ground cardamom (measure before grinding)
2 T ground fennel (measure before grinding)
1/2 corn starch
Directions
Place roast in pan, fat side down and rub the top side liberally with extra virgin olive oil.
Coat the entire roast, including the fat side, with the seasoning blend and rub it in well.
Set your drip pan up in your grill and add some red wine, beef stock/broth, roughly chopped yellow onion, sliced baby bella mushrooms, and roughly chopped yellow and red bell peppers into your pan.
Put your roast on your rotisserie. Light your rear infrared burner and set to high while leaving your bottom burners off. Turn your rotisserie on and close the grill lid.
After the roast has been cooking for about 30 minutes, add your fingerling potatoes, stir them around, and baste your roast.
30 minutes later stir your potatoes again, re-baste your roast, and turn your infrared burner to low.
20 minutes later (total time on the grill being 1:20), turn the rear burner and rotisserie off and check the internal temperature. (needs to be about 120°F and if you like it rare, pull it when the internal temperature is about 110°F)
While the roast rests, finish up the vegetables and pan gravy by adding some parsley and set the burner under the pan to low.
Begin adding in a burmanie (1 part flour, 2 parts butter) to thicken to preference
Slice your roast, serve, and enjoy!
View on BBQGuys.com