View on BBQGuys.com
Rotisserie Leg of Lamb Roast on a Kamado Grill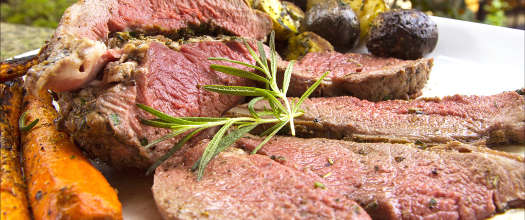 For this delicious leg of lamb roast recipe, I used the rotisserie of a Caliber ThermaShell Pro Kamado Charcoal Grill. I start by showing you how to make a seasoning paste for the lamb roast that is full of Greek flavors, then we put the lamb on the spit rod and let it roast in front of the charcoal for a great outer sear and a tender juicy inside! This is a great recipe for your next party or family dinner!
SERVES

6 - 10

PREP

30

min
COOK

1

hour
READY IN

2

hours
INGREDIENTS
1 each 4-5 lb. boneless leg of lamb roast


Seasoning Paste:
1 stick unsalted butter, softened, diced
1 cup of Greek seasoning blend
1 Tbsp dijon style mustard
1/2 bunch fresh parsley, chopped
2 Tbsp mint leaves, chopped
1 each shallot, finely chopped


Baste:
1/2 stick unsalted butter, softened, diced
1/4 cup olive oil
2 Tbsp Greek seasoning blend


Greek Seasoning Blend: (yields 1.5 cups)
1 Tbsp + 2 tsp kosher salt
2 Tbsp + 2 tsp black pepper
2 Tbsp garlic powder
3 Tbsp oregano
1 Tbsp granulated sugar
2 Tbsp onion powder
1 Tbsp thyme
2 Tbsp basil
2 Tbsp marjoram
2 Tbsp rosemary
3/4 tsp cinnamon
2 tsp ground cardamom (measure before grinding)
2 tsp ground fennel seeds (measure before grinding)
2 Tbsp corn starch


Things You'll Need:
INSTRUCTIONS
Begin with the seasoning paste, mix the Greek Seasoning blend into the butter to form a smooth paste.
Stir in the remaining ingredients into the paste.
Evenly coat the lamb roast with the seasoning paste, making sure to get the seasoning paste underneath the netting of the Lamb roast.
Place coated roast in the refrigerator and allow it to infuse for 2-6 hours.
Place lamb on rotisserie rod and forks and allow it to sit at room temperature while getting your grill preheated.
Fill the charcoal basket and light the coals in a couple of spots on the bottom.
Allow the grill to preheat to 450°F.
Place the lamb on the rotisserie and close the lid of the grill.
Mix together the baste, and give the roast a baste after it has been on the rotisserie for 30 minutes.
Close the lid and allow the roast to go for 20-30 more minutes.
Give the roast another baste and check the internal temperature. The internal temperature should be 125-135°F, depending on if you want the roast rare or medium.
Remove the Lamb roast and allow it to rest 10-15 minutes before slicing and serving.
Carefully remove the spit rod, serve, and enjoy!
View on BBQGuys.com