View on BBQGuys.com
Grilled Bacon Wrapped Scallops on a Gas Grill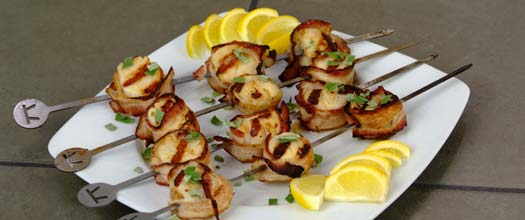 This dish is excellent on its own, or served with a steak for surf 'n turf.
PREP

20

mins
COOK

10

mins
READY IN

30

mins
Ingredients
2 lbs. scallops (U-10, muscle removed)
Juice from 1/2 of a lemon
Juice from 1 lime
1/2 cup extra virgin olive oil
1/2 tsp kosher or sea salt
10 sage leaves (chopped)
10 slices of bacon (halved and par boiled 3 minutes)
1/4 tsp. cayenne pepper
Directions
Whisk together lemon juice, lime juice, olive oil, white pepper, cayenne pepper, salt, and sage leaves.
Boil bacon for three minutes, then remove pat dry and allow to cool.
Wrap each scallop with one piece of bacon and slide 3-4 on each skewer, to keep bacon in place.
Pour marinade over scallops and let stand for fifteen minutes while pre-heating your grill to medium high.
Grill scallops for 2-3 minutes per side (until golden brown) and enjoy!
Suggested Pairing
Wine: Sauvignon Blanc, Pinot Noir
Beer: American Pale Ale, Belgian Witbier
View on BBQGuys.com