View on BBQGuys.com
Grinch Martini Drink Recipe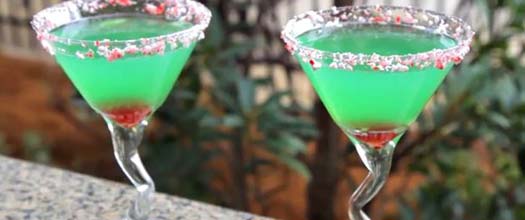 Learn how to make this festive Grinch Martini, perfect for holiday parties. This martini is complete with fresh melon flavors and a hint of mint! This recipe makes 2 drinks.
PREP

5

min
READY IN

5

min
Ingredients


2 cups honey dew melon, chilled & diced
4 mint leaves
1/4 cup granulated sugar
A few crushed peppermint sticks
Fresh mint leaves, for garnish
1 cup Midori, chilled
2 cherries


Directions
Place the honey dew melon in a large jar and add the mint leaves.
Sprinkle some granulated sugar on top and juice the mint leaves & honey dew together. Continue adding sugar until you've added about ¼ cup.
Strain the melon juice into a separate container, you should have about 4 ounces of juice.
Garnish your martini glasses with the crushed peppermint stick.
Add melon juice to a shaker, followed by the Midori. Shake vigorously.
Pour into your garnished glasses, and drop a cherry in each glass.
Serve and enjoy!
View on BBQGuys.com