View on BBQGuys.com
Molten Chocolate Lava Cake Recipe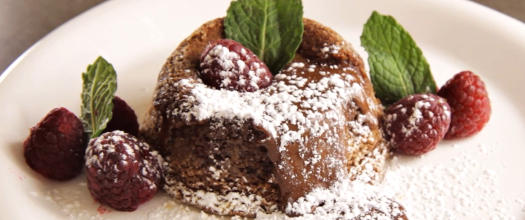 These molten chocolate cakes are the perfect way to complete a date night meal.
PREP

25

mins
COOK

10-12

mins
READY IN

40

mins
Ingredients
3 Tbsp unsalted butter, diced
3/4 ounce semi-sweet chocolate
1 ounce bitter-sweet chocolate
1 whole egg
2 egg yolks
1/2 cup powdered sugar
2 Tbsp + 2 tsp all purpose flour
Granulated sugar, for dusting
Directions
Preheat your oven to 450°F.
In a mixing bowl, blend together the whole eggs and egg yolks.
Lightly blend powdered sugar into egg mixture until incorporated, set aside.
Combine chocolate and diced butter in a saucepan, melt and blend together. Remove from heat and allow it to cool for fifteen minutes.
While the chocolate cools, grease and lightly dust two glass or ceramic ramekins. Ramekins should be six ounces each and they are best dusted with granulated sugar.
Once the chocolate has cooled, slowly drizzle it into your egg mixture; while continuously whisking.
Add flour to the chocolate mixture, blending just to incorporate.
Divide mixture evenly into ramekins (they should be about 3/4 full), place ramekins in your oven and bake until firm on the outside and gooey inside; about 10 – 12 minutes.
Remove cakes from the oven and cool slightly. Run a paring knife around the edge of each ramekin and turn cakes out onto plates. Tap the bottom of the ramekins with the heel of your knife, if the cakes don't want to drop.
Serve hot and ENJOY!
View on BBQGuys.com