View on BBQGuys.com
Oven-Roasted Asparagus Recipe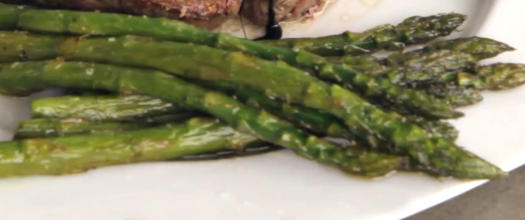 This is a simple, yet delicious recipe for oven roasted asparagus that features citrus notes!
PREP

5

mins
COOK

10

mins
READY IN

15

mins
Ingredients
1 Bunch asparagus
1/4 Cup olive oil
Zest from 1 lemon
1 Tbsp coarse salt
2 tsp fresh cracked black pepper
Juice from 1/2 lemon
Directions
Preheat oven to 450°F.
Align bunch of asparagus on cutting board, and bend back one stalk. The spot where the stalk breaks marks the woody part on the end that can be cut off. Slice the entire bunch where the stalk broke, and lay the asparagus in a large bowl.
In the bowl, coat the asparagus with olive oil, and season with salt, pepper, lemon juice and zest.
Toss the aspargaus in the mixing bowl, and lay aspargus out on a baking pan coated with olive oil.
Roast asparagus in the oven for 10 minutes.
Serve, and enjoy!
View on BBQGuys.com