View on BBQGuys.com
Baked Brie With Nuts and Fruit Preserves Recipe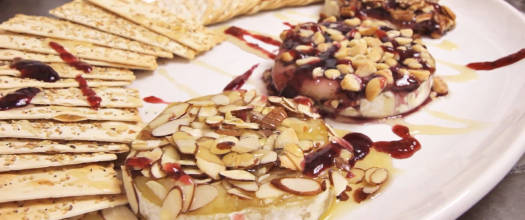 This creamy baked brie appetizer is a crowd favorite, and will be ready to serve in less than fifteen minutes.
PREP

5

mins
COOK

5-7

mins
READY IN

10-12

mins
Ingredients
3 Each Brie (mini wheels)
1/2 Cup Raspberry Preserve
1/2 Cup Blueberry Preserve
1/4 - 1/2 Cup Honey
1/4 Cup Macadamia Nuts
1/4 Cup Pecans
Crackers For Serving
Directions
Begin by slicing the top off of each wheel of Brie.
Place sheets of parchment paper on a baking pan and place each wheel of Brie on one of the sheets, cut side up.
Top one wheel with raspberry preserves and pecans.
Top a second wheel with blueberry preserves and Macadamia nuts.
And top the last wheel with some honey and almonds.
Put the pan in an oven pre heated to 350°F and bake just until gooey, 5 – 7 minutes.
Remove from the oven, and carefully transfer the Brie to a serving dish, using a spatula to help lift them off of the parchment.
Optionally top with more preserves and or honey, serve, and enjoy!
View on BBQGuys.com