View on BBQGuys.com
Creamy Lemon Basil Pasta With Shrimp Recipe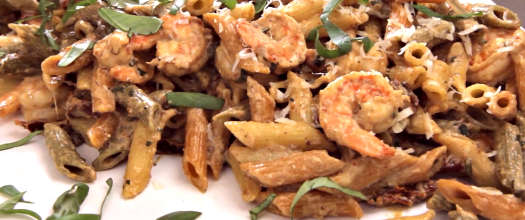 This creamy pasta is delicious with either shrimp or chicken, and features tons of fresh herbs and a great citrus taste.
PREP

10

mins
COOK

10

mins
READY IN

20

mins
Ingredients
1 Lb Penne Pasta
2 TB Olive Oil
2 Tsp Lemon Juice
2 Lb Shrimp or Chicken
1/4 Cup Sundried Tomatoes (In Olive Oil)
1/4 Cup White Wine
1 TB Capers
1 Each Lemon Zest
5 Cloves Roasted Garlic
5 Tsp Coarse Salt
2 Tsp Black Pepper
1/4 Tsp Cayenne Pepper
2 TB Fresh Basil
1 Tsp Fresh Oregano
1 Sprig Fresh Rosemary
1/2 Cup Coconut Milk
1/2 Cup Grated Parmesan Cheese
3/4 Cup Goat Cheese
1 TB Garlic Infused Oil
Directions
Put pasta in a pot of boiling water with 2 teaspoons of coarse salt.
In a mixing bowl, whisk together the regular olive oil, lemon juice, 1 teaspoon coarse salt, and cayenne pepper. Once blended, add shrimp to marinade and toss well to coat.
Coat the bottom of a large pan with olive oil and set over a medium high burner. Add shrimp and cook until pink and translucent, then remove from the pan and set aside.
Deglaze the pan with white wine, then add capers, sun dried tomatoes, and (optionally) garlic infused oil.
Put roasted garlic cloves in a small bowl with 1 teaspoon of coarse salt and smash into a paste with the back of a spoon, then add to the pan.
Cook garlic for about 45 seconds, then whisk in the coconut milk. Sprinkle in the black pepper and remaining coarse salt.
Stir in the fresh chopped herbs, lemon zest, and goat cheese until blended. Fold the shrimp back into the sauce followed by the pasta, tossing well to coat.
Top with half of the fresh grated parmesan cheese and serve from the pan or pour into a serving platter. Top with the reserved parmesan cheese, garnish with fresh herbs and enjoy!
View on BBQGuys.com