View on BBQGuys.com
Chipotle Candied Bacon Recipe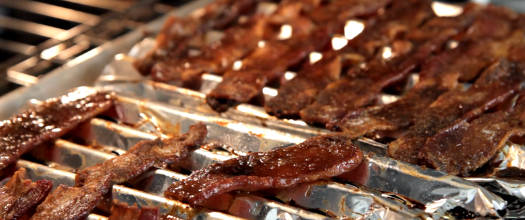 You've heard the expression, "Bacon is meat candy." Well, we took it a step further and created candied bacon. The hardest part about this recipe is waiting for it to cool down before you dive head first into the bacon goodness.
PREP

5

mins
COOK

40

mins
READY IN

45

mins
Ingredients
1 lb thick cut bacon
3/4 cup dark brown sugar
1/4 - 1/2 tsp chipotle chili powder
1/2 tsp cinnamon
Directions
Combine dark Brown Sugar, Chipotle Chili Powder, and Cinnamon. Blend well and set aside.
Preheat your oven to 400°F
Place the bacon on a cooling rack inside of a sheet pan, so that the grease can drain while cooking.
Bake the bacon for about 30 minutes, remove and let cool for 5-10 minutes.
Place a sheet of parchment paper in a pan and sprinkle some of the brown sugar mixture across it. Lay the bacon flat across the sugar mixture, so that the undersides get coated.
Sprinkle the rest of the sugar mixture on the top side of the bacon. Rub the sugar mixture into the bacon pieces so that they are evenly coated.
Place the coated bacon back onto the baking rack with the sheet pan underneath and bake for 8-12 more minutes.
When the sugar granules are melted and bubbling remove from the oven.
Cool slightly, and enjoy!
View on BBQGuys.com