View on BBQGuys.com
Smoked St. Louis Spare Ribs with Homemade Pineapple Chipotle Barbecue Sauce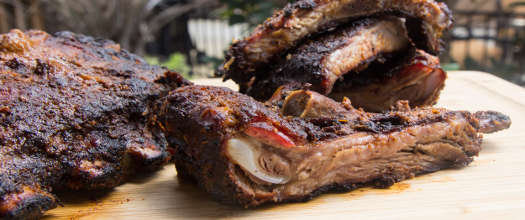 Everybody loves tender and juicy, smoked St. Louis Style spare ribs. For this recipe, we go low and slow on our Primo Ceramic Kamado grill. Learn how to prep the pork ribs, get them seasoned with a homemade rib rub and how to set up a Kamado grill for indirect low and slow cooking. While the ribs smoke, you can make your homemade Pineapple Chipotle BBQ sauce that brings the perfect amount of sweet and spicy to the smoked ribs!
PREP

15

mins
COOK

3-4

hours
READY IN

3-4

hours
INGREDIENTS
3 racks St. Louis Style Pork Ribs


Rib Rub:
2 Tbsp paprika
1/4 cup light brown sugar
3 Tbsp chipotle powder
1/4 cup black pepper
3 Tbsp kosher salt
2 Tbsp garlic powder
1 tsp cayenne pepper
2 Tbsp rubbed sage
2 Tbsp ground coriander (measure before grinding)
2 Tbsp ground cumin (measure before grinding)
2 Tbsp ground dried orange rind (measure before grinding)
2 tsp corn starch


BBQ Sauce:
2 Tbsp olive oil
3 inches fresh ginger, diced
1 each yellow onion, chopped
3 cloves garlic paste
2 cups pineapple chunks
3 each chipotles in adobo
1 can diced tomatoes (15oz)
3 cups pineapple juice
1 Tbsp Worcestershire
1/3 cup cane syrup
1/3 cup brandy
1/4 cup apple cider vinegar
2 Tbsp fresh cilantro
1/2 tsp ground cinnamon
1/4 tsp ground clove
1/2 tsp ground allspice
1 Tbsp coarse salt
1 tsp black pepper


Things You'll Need:
Directions
Ribs
Begin by trimming any excessive fat and the lip from your rib racks, then remove the membrane from the bone side.
Coat each rack with olive oil, then evenly coat and rub in the seasoning blend.
Set up and preheat your smoker, or kamado/grill for indirect low temperature smoking (225 – 250°F), with 3 to 5 chunks of your favorite hardwood.
For extra tender juicy ribs, place a water pan directly under the cooking grid. You can fill the water pan with a 50/50 blend of apple cider and apple cider vinegar for added flavor.
Place the ribs in the cooker, close the lid and begin making the BBQ sauce. Remember to check on the water pan every 45 minutes or so, to ensure it does not dry out.
When the ribs have smoked for 3 to 4 hours, you can begin checking their internal temperature for doneness. The temperature probe should go into the meat between the rib bones with little resistance if they are as tender as they should be.
When the ribs reach an internal temperature of 185°F, slather them generously with sauce and continue to cook for 15 to 20 minutes until caramelized.
Remove the ribs, allow them to rest for 10 to 15 minutes, serve, and enjoy!
BBQ Sauce
Lightly brown the chopped onion and diced ginger in oil, in a saucepan set over medium high heat. Season with salt and pepper.
Once browned, stir in the garlic paste and cook for 30 to 45 seconds before adding the pineapple chunks and Chipotles with Adobo, allowing this to cook for another few minutes.
Add the diced tomatoes and pineapple juice and cook until the liquid has reduce by about one fourth its original amount.
Once reduced, stir in the Worcestershire sauce, cane syrup, brandy, apple cider vinegar, cilantro, ground cinnamon, allspice, and ground clove.
Simmer, stirring occasionally for 30 minutes, to reduce and thicken.
Add the cooked sauce to a blender and blend until smooth.
Divide into 2 separate containers, one for basting the ribs and the other for the table, served with the ribs.
Grillabilities : The Skills to Grill
---
How to Use BBQ Rubs

Bringing more flavor to your BBQ is as easy as 1, 2, 3!

How to Grill with BBQ Sauce

Grilling with BBQ sauce can be tricky - you don't want to burn the sauce, or leave the food too sticky to handle. Learn the tricks to using BBQ sauce here!

How to Baste

Follow a few simple tips and you can delight your diners. Anybody for seconds?
View on BBQGuys.com