View on BBQGuys.com
Char-Grilled Buffalo Oysters Recipe On The Half Shell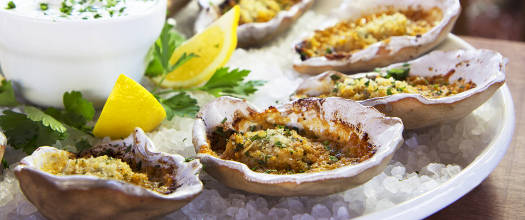 Perfect for parties, these delicious char-grilled oysters are easy to make and have a great kick! We use our Loftin ceramic oyster shells for this recipe, because they are reusable and allow us to buy pre-shucked oysters from the store, instead of having to shuck a bunch of fresh oysters and keep the shell. We grilled these oysters on a gas grill, but this same recipe would be great on a charcoal grill as well.
SERVES

2 - 4

PREP

20

min
COOK

5

min
READY IN

25

min
Ingredients
1 dozen raw shucked oysters
1 dozen Loftin ceramic oyster shells
(alternatively: keep 12 shucked oyster shells)


Buffalo Marinade / Sauce:
2 Tbsp olive oil
1 tsp lemon juice
1/4 tsp black pepper
1/2 tsp coarse salt
1 1/2 tsp honey
1 pinch cayenne pepper
3 Tbsp Frank's Original Hot Sauce
1 tsp corn starch
1/4 cup unsalted butter


Breading:
3/4 cup Parmesan cheese
1/2 cup panko bread crumbs
1 clove minced garlic
2 Tbsp minced parsley
1 each lemon zest
1 tsp coarse salt
1/2 tsp black pepper
Parsley & a fresh squeeze of lemon for garnish
Directions
In a large mixing bowl, add in Franks Hot Sauce, lemon juice, corn starch, and coarse salt. Whisk together.
Add in black pepper, cayenne pepper, and honey.
While whisking, drizzle in olive oil, followed by melted butter.
Add oysters into sauce, and allow flavors to meld while you mix up bread crumb mixture.
In a mixing bowl, mix the breadcrumb ingredients together well.
Add the oysters to the breadcrumb mixture and toss to coat well.
Reserve buffalo sauce marinade for spooning into each shell before adding the oyster coated in breadcrumbs.
Preheat your grill for direct high heat.
Place the oysters on the grill and close the lid
Allow the oysters to simmer in their shells for 3-5 minutes.
Remove from the grill, plate them up on a bed of ice cream salt to prevent them from sliding around on the platter, garnish with some parsley and a fresh squeeze of lemon,and enjoy!
Items Used In This Recipe
View on BBQGuys.com