View on BBQGuys.com
How To Smoke Ribs | Recipe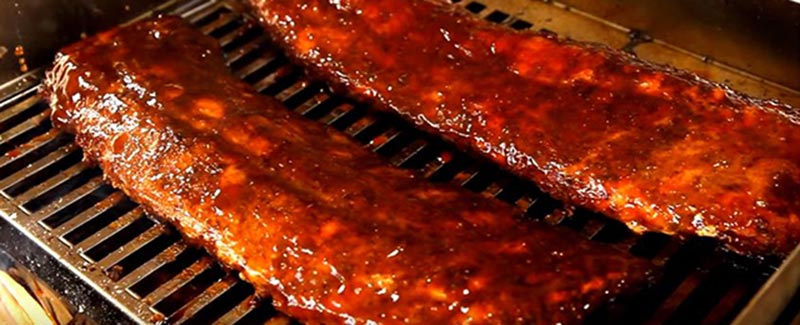 Want to smoke tender ribs on a gas grill? In this video, you'll learn how to smoke delicious baby back ribs on the TEC Patio FR Infrared Gas Grill using the awesome TEC Roaster/ Smoker Rack Accessory!
SERVES

4-6

PREP

15

min
COOK

3 1/2

hours
INGREDIENTS


Homemade Rib Rub:
2 Racks Ribs
2 Tbsp paprika
1/4 cup light brown sugar
3 tbsp chipotle powder
1/4 cup black pepper
3 Tbsp. kosher salt
2 Tbsp. garlic powder
1 Tsp. cayenne pepper
2 Tbsp. rubbed sage
2 Tbsp. ground coriander (measure before grinding)
2 Tbsp. ground cumin (measure before grinding)
2 Tbsp. ground dried orange rind (measure before grinding)
2 Tsp. corn starch


Things You'll Need:
DIRECTION
Remove silverskin and apply dry rub to ribs, and set aside.
Place the drip pan and roasting rack directly on the cooking grids of the TEC Patio FR, and then place the wood chip tray against the front of the roaster rack. Then, you are ready to cook!
Fill drip pan with apple juice, then place soaked apple or cherry wood chips in the smoking tray.
Set your TEC Patio FR grill to low, place ribs on rack and close the lid.
After 1 hour, flip ribs over so that both sides get exposure to the sweetness of the apple juice.
At 1 hour and 30 minutes, flip ribs back to bone-side down, refill the drip pan with apple juice, and refill the wood chip tray if needed. Close the lid.
At 3 hours, baste with your favorite BBQ sauce, close the lid, and let them cook for another 30 minutes.
At 3 hours and 30 minutes, check the tenderness of the ribs. Do this by picking them up from one end with tongs. If they are tender enough to pull apart, they're done!
Remove from grill, wrap in foil, and allow them to rest for at least 15 minutes./li>
Slice, serve, and enjoy!
Grillabilities : The Skills to Grill
---
How to Use BBQ Rubs

Bringing more flavor to your BBQ is as easy as 1, 2, 3!

How to Grill with BBQ Sauce

Grilling with BBQ sauce can be tricky - you don't want to burn the sauce, or leave the food too sticky to handle. Learn the tricks to using BBQ sauce here!

How to Baste

Follow a few simple tips and you can delight your diners. Anybody for seconds?
View on BBQGuys.com