View on BBQGuys.com
Big Green Egg vs. Primo Grill Comparison
Primo Grills | The Oval Innovation
---
After Big Green Egg brought kamado cooking to the US in the 1970s, many brands tried their hand at recreating these ceramic stoves. One brand in particular, though, made a key alteration to Big Green Egg's blueprint and completely changed the game — Primo chose an oval shape for its kamados rather than the traditional round (or, in this case, egg) shape. But what separates an oval from an egg? It's all in the ability to set up direct and indirect heat at the same time, a highly versatile arrangement commonly known as dual-zone cooking. With this ever-so-slight innovation, Primo has become a force in a kamado industry once dominated by Big Green Egg.
What Are The Available Models?
---
| Model | Grill Diameter |
| --- | --- |
| Big Green EGG 2XL | 29 inches |
| Big Green EGG XL | 24 inches |
| Big Green EGG Large | 18 1/4 inches |
| Big Green EGG Medium | 15 inches |
| Big Green EGG Small | 13 inches |
| Big Green EGG MiniMax | 13 inches |
| Big Green EGG Mini | 10 inches |
How Do Their Cooking Systems Compare?
---
Big Green Egg: Tried & True

As the original kamado grill sold in the USA, Big Green Egg offers a dependable cooking experience. But much of the dependability comes from its simplicity and the presence of only a single cooking chamber that can be used for either direct or indirect cooking. This limits your cooking versatility, as does the fact that the majority of Big Green Egg accessories are sold separately.

The Skinny

Manufactured in Mexico
Biggest name in the kamado industry, company established in 1974
High-fire ceramics and glaze backed by a lifetime warranty
Basic one level cooking system
Available in 10", 13", 15", 18", 24", and 29" diameter
Many accessories available, all sold separately

Primo: Oval Smokes Round Every Time

Primo's patented oval shape delivers the highest degree of cooking flexibility of any ceramic grill by creating 2 distinct cooking zones at once. No more burning veggies while waiting for a thick steak to sear or having to completely reset your charcoal to cook something different — these kamados let you do everything at once. With versatility like that, grilling can be a whole lot easier.

The Skinny
Oval Kamados | Versatile Cookers
---
With a Primo kamado, you'll have no trouble grilling thick, bone-in ribeyes while roasting farm-fresh corn on the cob on the other side. Round ceramic grills have plenty of cooking benefits, but they can't quite deliver the same versatility and efficiency of a Primo Oval.
Primo's oval design gives you more control when cooking foods that require different temperatures and distance from natural lump charcoal. Commonly referred to as "2-zone" cooking, this setup allows you to simultaneously cook with direct and indirect heat instead of having to choose one over the other. It's similar to turning off half the burners on a gas grill, but Primo offers all the flavor of a natural wood fire. This kamado lets you grill juicy cheeseburgers, authentically bake wood-fired pizza, roast a turkey, or smoke a beef brisket to tender perfection. Virtually any food and recipe can be cooked on a Primo Oval grill. Don't believe us? Give it a try yourself. Grill, bake, roast, smoke, sear, braise, sauté, barbecue, flambé, broil, fricassee, pan-fry, baste, parboil, boil, poach, simmer, stew, stir-fry — Primo lets you do whatever your heart desires!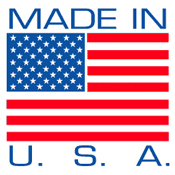 Each Primo ceramic grill is masterfully manufactured in the USA. All raw materials for the ceramics are domestically harvested, and the molding, drying, firing, by-hand assembly, and packaging of Primo kamado grills are all done at the company's manufacturing plant in Tucker, Georgia.
Primo is extremely proud of the American ingenuity and quality craftsmanship put into each of its ceramic grills. It's no wonder 4 out of 5 Americans prefer products made in the USA. Most other major ceramic kamado companies, meanwhile, purchase their grills from foreign companies rather than producing the grills themselves.
Shop Primo Kamado Grills & Accessories
---
Primo Ceramic Kamados

Primo is known for making the world's first and only oval kamado, but the company's grills still come in a wide range of configurations and sizes to fit any outdoor space. That means a round model, too, though the majority of Primo's ceramic kamado lines stay true to the innovative oval shape. You'll even find a variety of kamado carts, beautifully crafted mobile cypress tables.

Shop Primo Ceramic Kamado Grills

Primo All-in-One Kamado Grills

We firmly believe that Primo grills are all-in-one cooking machines. But what if we told you Primo also offers an all-in-one package that sets you up for success right away? That's what you get with these Primo models, which come with a steel cradle, grate lifter, ash tool, and side shelves. With this bundle, you won't have to go searching for the accessories you want.

Shop Primo All-in-One Kamado Grills

Primo Grill Accessories

Speaking of accessories, there's an entire line of Primo add-ons to make your cooking experience even more versatile and convenient. The Primo cast iron firebox divider plays a huge role in 2-zone cooking, and you'll also find plenty of value in add-on accessories like grill grate extenders, instant-read thermometers, pizza stones, and replacement parts.

Shop Primo Kamado Accessories
Primo Kamado Reviews and Recipes
---
Still not sold on the benefits of Primo kamado grills? Let our experts ease your mind with a comprehensive overview of Primo kamados and a few mouthwatering recipe videos that show just how versatile these grills really are. A perfectly smoked brisket is one thing, but we bet you weren't expecting to see chicken parmesan or naan bread done in a charcoal kamado!
How to Smoke a Brisket on a Primo Kamado

Grilled Chicken Parmesan on a Primo Kamado

Cheese and Garlic Naan on a Primo Kamado
View on BBQGuys.com