View on BBQGuys.com
Smoked Brisket on a Kamado Grill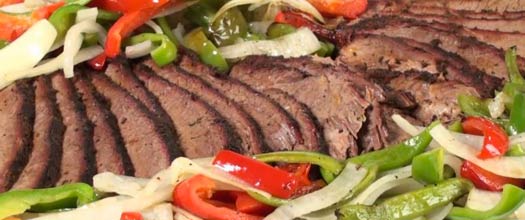 Chef Tony shows you step by step how to prepare and smoke a large beef brisket using a kamado style grill. The ceramics used in kamado grills have excellent heat retention which makes them ideal for slow smoked beef brisket.
PREP

24

hours
COOK

12

hours
READY IN

36

hours
Ingredients
5-7 lb. beef brisket
3-4 cups wood chunks or chips
1/4 cup extra virgin olive oil
1 T. dried rosemary
2 T. garlic powder
2 T. turbinado sugar
2 T. paprika
2 T. cayenne pepper
1 T. dried oregano
1 T. dried thyme
2 T. kosher salt
2 T. fresh cracked black pepper


If Spraying:
1/2 cup apple cider vinegar
1/2 cup apple cider
Directions
After trimming the fat layer down on the brisket to about 1/4 inch and removing any large membranes or "silverskin", rub generously with olive oil and rub in your spice blend with the backs of your hands (this is more fun than it sounds).
Next double wrap your brisket tightly with plastic wrap and place in the refrigerator for at least 2 hours, but preferably over night.
While waiting, soak your wood chips and set up your grill or smoker for indirect cooking.
When ready, remove brisket from refrigerator and place straight on a 225°F degree grill, fat side down.
If spraying your brisket, blend the apple cider and apple cider vinegar in a spray bottle and spritz every 2-3 hours.
Your brisket will take between 1 1/4 - 2 hours per pound, depending on many different factors. With that said, insert an internal temperature probe into the thickest section of meat on your brisket at around 1 1/4 hours per pound of actual cooking time and begin to monitor.
When your brisket reaches an internal temperature of 180°F, remove and double wrap with heavy duty aluminum foil; followed by wrapping tightly with a clean towel or newspaper.
Now place the whole package inside of a cooler. When the internal temperature reaches 190°F, you are ready to un-wrap one of the best tasting cuts of beef you have ever had.
Suggested Pairing
Wine: Cabernet Sauvignon, Claret
Beer: Imperial IPA, Brown Ale
View on BBQGuys.com