View on BBQGuys.com
Mexican Style Brownies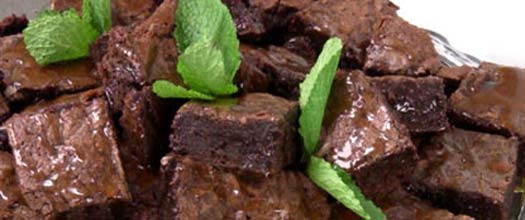 We hope you'll love the taste bud trifecta of chocolate, fresh ground chipotle, and bourbon caramel. The flavors mingle well together and light hint of chipotle comes to the palate a minute or so after eating a piece. These brownies have been a hit ever since Chef Tony developed the recipe. We'd like to share the recipe with everyone who requested, enjoy!
PREP

10

mins
COOK

35

mins
READY IN

45

mins
Ingredients
Brownies:
2 sticks butter, diced
1 cup granulated sugar
1 cup light brown sugar
1 cup all purpose flour
4 eggs, lightly beaten
1 tsp vanilla extract
2 tsp Jack Daniel's
6 ounces bittersweet chocolate, chopped
4 ounces semi sweet chocolate, chopped
2 T cocoa powder, Dutch process
1 tsp cinnamon powder
1/2 tsp salt
1 tsp chipotle powder


Caramel Jack Sauce
6 T granulated sugar
2 T water
2 T Jack Daniel's
4 T butter, diced
Pinch of salt
2 T heavy cream
Directions
Melt butter until just melted, then begin melting the bittersweet and semi-sweet chocolate. Once both melted, whisk in cocoa powder, cinnamon, and ground chipotle.
Pour into a mixing bowl, add granulated and light brown sugar and cream together.
Lightly blend in eggs, just to combine (Don't over beat eggs into batter)
Sift in, then stir lightly, the flour; just until blended in.
Butter/grease an 11-12 inch cast iron skillet or a 9 X 13" pan, then line with parchment or aluminum foil and repeat buttering or greasing.
Pour batter into pan and bake at 325-350°F for 25-35 minutes, remove, cool completely, top with caramel sauce, and enjoy!
Caramel Jack Sauce:
Make the caramel base for the sauce by cooking the granulated sugar until it takes on a deep caramel hue.
Remove from heat and add the Jack Daniel's and water; place back over heat and cook until everything is incorporated.
Carefully add butter, mix into sauce, and finally add heavy cream.
Suggested Pairing
Wine: Cabernet Sauvignon, Merlot
Beer: American Porter, Doppelbock
View on BBQGuys.com