View on BBQGuys.com
Char-Grilled Bloody Mary Recipe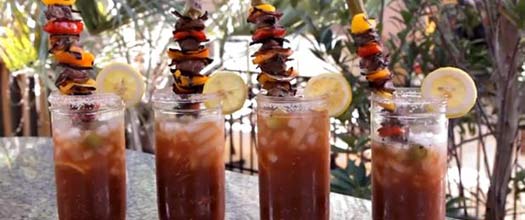 Chef Tony shows how to make a delicious char-grilled Bloody Mary, complete with a Bloody Mary marinade on the beef tenderloin kabobs. The char-grilled flavor in this Bloody Mary is amazing.
PREP

1

hour
COOK

5

min
READY IN

1

hour

5

mins
Ingredients


3/4 lb. thick-cut applewood smoked bacon
1/2 lb. beef tenderloin, cubed
3 bell peppers, sliced (preferably multi-color)
Pickled okra, one for each skewer
Skewers, for grilling


Kabob marinade:
1/2 cup vodka
1 cup Bloody Mary mix
1 T Worcestershire sauce


Drink Recipe:
5 1/2 cups Bloody Mary mix
2 T Worcestershire sauce
1 T olive juice
1 T fresh squeezed lemon juice
2 tsp creole mustard
A few drops of Frank's hot sauce
1 1/4 cup vodka


For the glasses:
1/2 cup coarse salt
1/2 tsp cayenne pepper
1/2 chili powder
A few slices of lemon
A few olives
1 lime


Directions
Begin by lightly charring the bacon to render any excess fat. You can do this by baking in the oven for about 10-15 or outside on the grill. Use some paper towels to blot off any excess grease and slice into pieces about 1 1/2 inch wide.
Put your skewers together by alternating between bacon, beef tenderloin & slices of bell peppers. Top each skewer with a pickled okra.
Prepare the kabob marinade by mixing the vodka, Bloody Mary mix & Worcestershire sauce. Mix well and pour over the kabobs, and allow them to marinade at room temperature for 20-30 minutes.
While the kabobs are marinading, preheat your grill for direct, medium-high heat. Then, prepare the drink recipe by blending the Bloody Mary mix, Worcestershire sauce, olive juice, lemon juice, creole mustard, hot sauce & vodka. Set this aside for now.
Next, we'll prepare the seasoned salt for rimming the glasses. Blend the coarse salt, cayenne pepper & chili powder together well. Rim each glass with a cut lime and spin it around in the salt.
Now it's time to grill the skewers. Place each skewer on the grill and cook for about a minute and a half per side. Then, remove the skewers and place in your glasses. Garnish each glass with a slice of lemon, and place one in the bottom of each glass if you like.
Fill each glass with ice, and top off with your Bloody Mary drink.
Serve and enjoy!
View on BBQGuys.com