View on BBQGuys.com
Stuffed Pork Loin Smoked on a Kamado Grill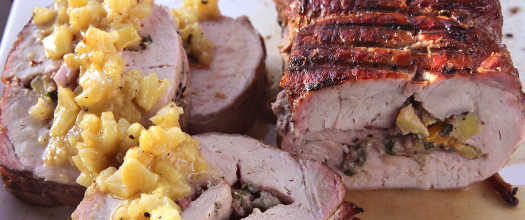 Learn how to prepare a stuffed pork loin that has been smoked on a kamado grill. The melted brie cheese is perfectly complemented by the smoky bacon and pineapple bits.
PREP

20

mins
COOK

1

hour

15

mins
READY IN

1

hour

35

mins
INGREDIENTS
4-6 lbs. Pork loin
1 whole pineapple
Stuffing Mixture:
1/2 lb applewood-smoked bacon, roughly chopped (cooked half-way)
1/2 cup fresh sage leaves, roughly chopped
1/4 cup fresh parsley, roughly chopped
1/4 cup orange bell pepper, roughly chopped
1/2 lb brie, diced
1 cup fresh pineapple, roughly chopped
Cracked black pepper, to taste
Coarse salt, to taste
Sauce:
Grilled pineapple, diced
5 T unsalted butter
2-3 T brandy
Directions
Mix all of your stuffing ingredients into a large mixing bowl and lightly coat your pineapple toppers with some black pepper and salt
Butterfly cut your roast, fat side down, and coat both sides of your pork loin with salt and pepper (Cayenne pepper optional)
Evenly spread your stuffing mixture out, leaving space around the edges, and roll your loin.
Crosshatch some shallow slices across the top and tie your roast up with kitchen twine.
Place in 325°F kamado that has been set up for indirect cooking and add pineapple toppers
After 35 minutes, move pineapple domes to the edges so the center will brown
25 minutes later, flip pork loin, remove pineapple domes and open all dampers to finish roast
To make sauce, whisk ingredients into a pan over medium-high heat. Remove once butter is melted.
Remove pork loin when internal temperature reaches 135-140°F.
After resting 15 minutes, slice into rings, top with sauce, serve and enjoy!
Grillabilities : The Skills to Grill
---
How to Use BBQ Rubs

Bringing more flavor to your BBQ is as easy as 1, 2, 3!

How to Grill with BBQ Sauce

Grilling with BBQ sauce can be tricky - you don't want to burn the sauce, or leave the food too sticky to handle. Learn the tricks to using BBQ sauce here!

How to Baste

Follow a few simple tips and you can delight your diners. Anybody for seconds?
View on BBQGuys.com