View on BBQGuys.com
Grilled Buffalo Chicken Pizza Recipe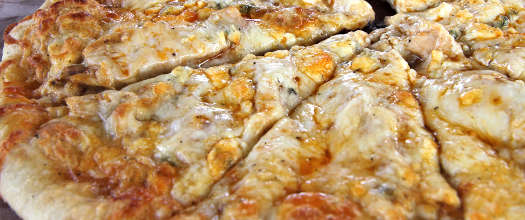 We use the KettlePizza attachment to make a crispy crust pizza on our kettle grill. The cool blue cheese crumbles and melty mozzarella cheese are a perfect complement to the spicy buffalo sauce!
SERVES

4-6

PREP

20

min
COOK

10

min
READY IN

30

min
Ingredients


Chicken marinade:
1/4 cup Frank's Original RedHot Sauce
Juice of 1/2 lemon
1 garlic clove, pasted
1 tsp cayenne pepper
1 tsp black pepper
1 tsp kosher salt
1/4 cup olive oil
2 chicken breast filets, halved


Sauce:
1/2 cup Frank's Original RedHot Sauce
2 tsp apple cider vinegar
1 tbsp honey
1 tsp tapioca starch
1/2 cup melted butter (unsalted)


Pizza dough (watch the recipe video here)
Shredded mozzarella cheese
Blue cheese crumbles


DIRECTIONS
Combine ingredients into mixing bowl and whisk well. Pour marinade over chicken, making sure to fully coat the meat. Set in refrigerator for 2-4 hours.
To make the sauce, blend the first four ingredients in a bowl and pour in melted butter while whisking constantly.
Begin cooking chicken on your preheated grill. Cross-hatch after 2 minutes, flipping them 1 minute later. Remove chicken once both sides are browned.
Allow chicken to cool down slightly, slice into strips across the grain and set aside.
Preheat pizza stone and grill, dust pizza peel with cornmeal and spread out your dough.
Baste top of your dough with sauce and remember to save some to toss your chicken in!
Apply base layer of mozzarella cheese, add chicken and finally top with more shredded mozzarella and blue cheese crumbles.
Throw a little cornmeal on pizza stone to prevent sticking and bake pizza at 600°F. Turn pizza after a few minutes and remove when crust is golden brown and cheese in center is melted.
Slice, serve and enjoy!
Grillabilities: The Skills to Grill
---
View on BBQGuys.com