View on BBQGuys.com
Plank Smoked Salmon Recipe with Sage Lemon Butter Sauce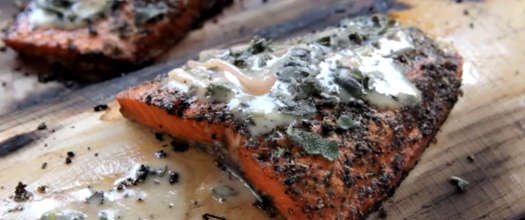 Learn how to make delicious Planked Salmon in your pizza oven or on the grill! This recipe features salmon that is plank smoked on Hickory and Maple wood and topped with a sage lemon butter sauce.
PREP

10

mins
COOK

15

mins
READY IN

25

mins
Ingredients
2 ea. salmon filets, skin on
Olive oil
Fresh cracked black pepper, to taste
Coarse salt, to taste
1 ea. fresh lemon zest
1 T. dry rub sage


Lemon Sage Butter Sauce
2 T. dry white wine
1 T. rice vinegar
1 T. fresh lemon juice
1/4 cup shallots
Cayenne pepper, to taste
1/4 tsp white pepper, ground
coarse salt, to taste
black pepper, to taste
1 T. heavy whipping cream
2 T. fresh sage
1 stick butter
*You'll also need wood grilling planks. Before grilling, soak the planks for 4-24 hours.
Directions
Drizzle salmon filets with olive oil and add rub ingredients.
Preheat wood planks for 10 minutes that have been soaked over night and coated with olive oil.
Begin to cook salmon on planks while you prepare the lemon sage butter sauce.
Reduce the ingredients in a pan until it becomes a glaze and turn the burner to low to add your heavy cream, sage and butter.
Turn fish and allow to bake until it you can flake it with a fork.
Optional: Turn up the heat to ignite the planks and allow to flame kiss the sides of your salmon. Be sure to have water near by to extinguish flame.
Drizzle filets with lemon sage butter sauce and top with fresh sage. Serve and enjoy!
View on BBQGuys.com