View on BBQGuys.com
Herb Roasted Potatoes Recipe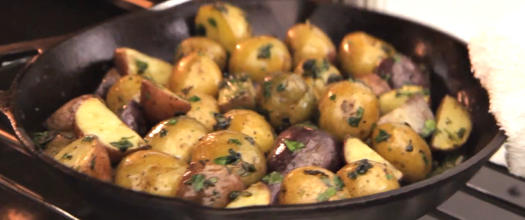 Potatoes are the perfect companion to a juicy steak, and these herb roasted potatoes are sure to impress! .
PREP

10

mins
COOK

30

mins
READY IN

40

mins
Ingredients
1 Lb multi-colored mini potatoes
1/2 Bunch fresh parsley, chopped
1/4 Cup fresh basil, chopped
6 Sprigs fresh rosemary, chopped
5 Springs fresh thyme, chopped
1/3 Cup olive oil
1 Tbsp coarse salt
2 tsp fresh cracked black pepper
Directions
Preheat cast iron skillet for potatoes in a 450°F oven.
Chop parsley, basil, rosemary, and thyme and mix together. Add half of the chopped herbs to a mixing bowl. Reserve half of the chopped herbs for adding to potatoes after they come out of the oven..
Add potatoes to mixing bowl, coat with olive oil, and season with salt and pepper. Chop any excessively large potatoes in half to insure even cooking.
Toss potatoes in mixing bowl, remove your preheated cast iron skillet from the oven and coat with olive oil.
Add potatoes to the skillet and roast at 450°F for 30 minutes, or until potatoes are tender and golden.
Once the potatoes are finished, stir in your reserved chopped herbs. (Adding herbs in two stages really enhances the overall flavor of the potatoes!)
Serve, and enjoy!
View on BBQGuys.com