View on BBQGuys.com
Seared Oven-Finished Filet Mignon Recipe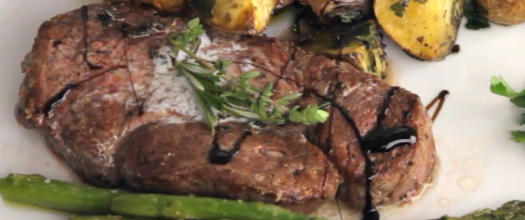 Filet Mignon is the perfect steak for a romantic date night. This cut of meat is super tender and just melts in your mouth.
PREP

5

mins
COOK

8-10

mins
READY IN

13-15

mins
Ingredients
2 Each Filet Mignon
1/4 Cup olive oil
2 tsp coarse salt
2 tsp fresh cracked black pepper
2 Tbsp unsalted butter
2 Sprigs fresh thyme
2 Sprigs fresh rosemary
Directions
Allow Filet Mignons to come to room temperature while you preheat your cast iron skillet in the oven to 450°F.
Coat fillets with olive oil, and season with salt and pepper, rub in the seasoning on both sides.
Remove your preheated skillet from the oven and place over a burner set to high. Coat skillet with remaining olive oil.
Lay fillets in the pan, and add Thyme and Rosemary sprigs.
While fillets sear, baste top side with Sprigs of Thyme and Rosemary.
Once the bottom side of the steak has a nice sear and caramelization, loosen with a spatula and gently flip to the other side with tongs. Baste second side with herb sprigs.
Sear for 1-2 minutes, until second side is seared, and transfer to a 450°F oven. Finish the steaks in the oven for 4-8 minutes depending on your desired doneness.
Plate the steaks, and top with a knob of butter and a fresh sprig of thyme or rosemary.
Allow the steaks to rest at least 5 minutes to retain maximum juices.
Serve, and enjoy!
View on BBQGuys.com