View on BBQGuys.com
Grilled Espresso Cowboy Ribeye Steak Recipe with Stout Beer Reduction Sauce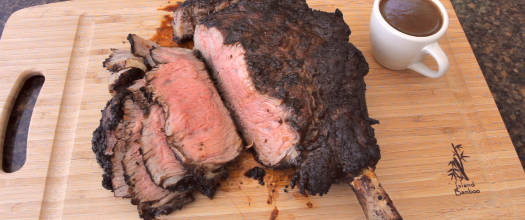 Looking for a little "pick-me-up" with your steak? This cowboy ribeye is marinated in espresso and then covered in an espresso and seasoning blend. We cook this monstrous steak on our Blaze Professional LUX grill and then top it with a stout beer reduction sauce.
PREP

1

hour

10

mins
COOK

15

mins
READY IN

1

hour

35

mins
INGREDIENTS


Marinade:
2 shots espresso
1/2 tsp ground cumin
1/4 cup olive oil


Rub:
1 tsp coarse salt
2 tsp fresh-cracked black pepper
1 Tbsp + 2 tsp brown sugar
1 1/2 tsp chipotle powder
1/2 tsp ground coriander
1/2 tsp ancho chili powder
1/4 tsp ground mustard seed
1 Tbsp ground espresso


Stout Beer Sauce:
1 cup stout beer
3/4 cup beef stock or broth
1/4 tsp chipotle powder
2 sprigs rosemary
Paste of one clove of garlic
3 Tbsp butter
1 tsp brown sugar
1 Tbsp uncooked stout


Directions
Brew a double shot of espresso and whisk into a large mixing bowl along with your cumin and olive oil.
Marinate your steak while you prepare the rub, mix all ingredients together in a bowl (you can give it a spin in a coffee grinder for a finer crust).
After an hour, remove steak from marinade and pat dry with paper towels.
Evenly coat the entire steak with your espresso and seasoning blend, rub it in firmly, and get your grill ready to cook on direct high heat.
Sear the outside of your steak on high heat, and then turn off one burner and cook indirectly until desired internal temperature is reached.
Allow steak to rest for at least 10 minutes while you prepare your stout reduction sauce.
In a pan set over medium heat, pour in your beer, broth, chipotle powder and rosemary, allow to reduce by almost 3/4.
Once reduced, add the paste of one clove of garlic and simmer for 20-30 seconds, until it begins to smell fragrant.
Turn your burner to low and remove rosemary sprigs (if reduced too much, add a splash of water), whisk in butter until just melted and remove pan from heat.
To complete sauce, whisk in brown sugar and uncooked stout.
Drizzle sauce over steak or serve in a dish on the side, and ENJOY!
Grillabilities : The Skills to Grill
---
How to Grill Steaks

Grilling a steak is easy once you learn a few basic skills. Learn how to grill the perfect steak and pick up a few recipes along the way!

How to Pick the Best Steak

The "best" steak is a matter of personal preference. We're just happy you love steak!

How to Season a Steak

A well-seasoned steak starts with resting the meat, then some key ingredients to bring out the flavor.
View on BBQGuys.com