View on BBQGuys.com
Bananas Foster Served Over Pound Cake Recipe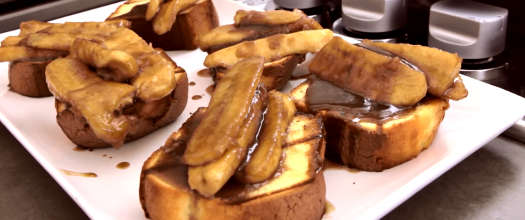 When you need a delicious desert in a hurry, turn to this simplified version of bananas foster that will be ready to serve in less than fifteen minutes.
PREP

5

mins
COOK

10

mins
READY IN

15

mins
Ingredients
1 Each Pound Cake
4 Each Fresh Bananas
1 Stick Unsalted Butter
1 1/2 Cups Brown Sugar
1/4 Cup Brandy
3/4 Cup Heavy Cream
Directions
Preheat your oven to 450°F and slice your pound cake in one inch increments. Place the slices in the oven.
Begin making the sauce by cooking down 1/2 stick of butter and your brown sugar. After the sugar cooks down, add in your heavy cream and whisk together.
Once blended, fold in your sliced bananas and brandy.
OPTIONAL: Pour in a shot of 151 and ignite. Allow to burn out.
Mount sauce with the other half of your stick of butter and whisk to combine.
Remove bread from oven and top each slice with a generous scoop of sauce and bananas. Serve, and enjoy!
View on BBQGuys.com