View on BBQGuys.com
Shrimp Fried Rice Recipe on a Weber Master Touch Charcoal Grill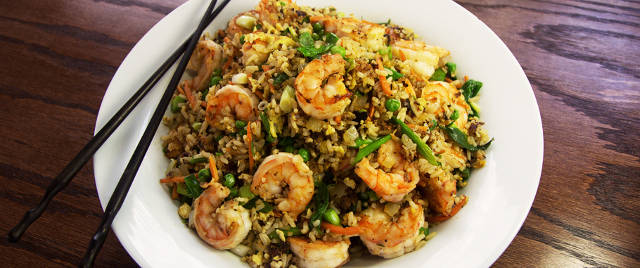 For this recipe, we recreate a take-out classic: shrimp fried rice. We believe everything is better cooked on a grill, so we head over to our Weber Master Touch charcoal grill, which includes a "Gourmet BBQ System" that allows you to take out the center of your cooking grid and use different inserts, such as a griddle, pizza stone or wok (which we used today). The key point for this recipe is to allow your rice to cool down completely so the extra moisture doesn't turn your dish into mush.
SERVES

4

PREP

40

min
COOK

15

min
READY IN

55

min
Ingredients
1/4 cup olive oil
Coarse salt, to taste
Black pepper, to taste
2 each eggs, large
3 cups white rice, cooked
1 1/2 lbs shrimp, peeled & deveined
1 tsp sriracha sauce
1 Tbsp rice vinegar
1/4 cup low sodium soy sauce
2 tsp toasted sesame oil
3/4 cup carrots, shredded
1 Tbsp ginger paste
3 cloves garlic paste
1/2 cup yellow onion, diced
3/4 cup snow peas
1 bunch chopped scallion
Directions
Cook 3 cups of rice, scatter onto parchment paper, cool completely and toss to aerate or preferably, refrigerate overnight.
Coat shrimp in a little olive oil and season shrimp lightly with salt, black pepper, and sriracha sauce. Toss to coat and set aside.
Whisk eggs together lightly with a pinch of salt and set aside.
Whisk together the soy sauce, rice vinegar and toasted sesame oil, set aside.
Heat a tablespoon of olive oil in a wok set over medium-high to high heat. Add shrimp and cook until just barely done (2 to 3 minutes), then transfer the shrimp to a bowl and set aside.
Put a little more oil in the wok, then add the diced yellow onion, shredded carrots and ginger paste, toss around, then add the garlic paste and toss just until fragrant.
Now add rice and toss, allowing it to cook and crisp up for 2 to 3 minutes. Once crisp, push the rice up the side of the wok and pour the eggs into the center. Allow the eggs to cook until lightly set up (about a minute). Once set up, begin chopping the eggs and mixing them in with the rice and continue cooking it all together for another minute or two.
Finally, add the snow peas, chopped scallion, shrimp, and the soy sauce blend. Stir everything around and allow to cook and meld together for another 1 to 2 minutes.
Remove from wok, serve, and enjoy!
View on BBQGuys.com