View on BBQGuys.com
Bourbon Street King Cake Bread Pudding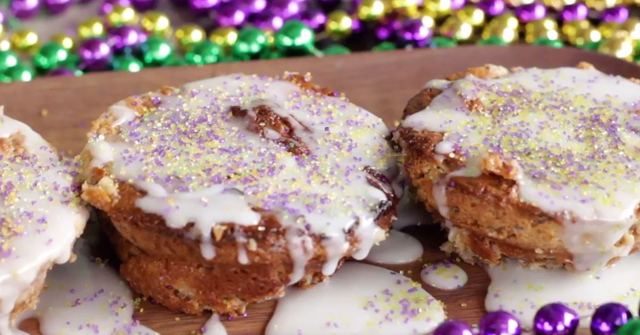 See how easy it is to turn a king cake into a delicious Bourbon Street bread pudding. This recipe is sure to be a hit this Mardi Gras season!
SERVES

14

PREP

1.5

hrs
COOK

1

hr
READY IN

2.5

hrs
Ingredients
1 cinnamon king cake
8 oz. cream cheese (softened)
4 tbsp. butter (softened)
1 cup sugar
2 eggs
(1) 14 oz. can sweetened condensed milk
2 cups half and half
1/2 cup bourbon
Cinnamon (to taste)
Vanilla (to taste)
Nutmeg (to taste)


For Glaze
3 cups powdered sugar
4 tbsp. milk
3 tbsp. lemon juice
Mardi Gras sprinkles - purple, green, and gold (optional)


Items You'll Need:
Instructions
Preheat BBQ to 325°
Butter baking dish
Cut king cake into small cubes
Combine cream cheese, butter, and sugar until creamy
Add eggs one at a time, and mix until smooth
Add condensed milk, half and half, cinnamon, vanilla, and nutmeg
Add cubed king cake to mixture
Add bourbon
Soak at least 1 hour (or overnight if possible)
Bake 45 minutes to 1 hour, until tops begin to brown
After baking, let cakes cool about 20 minutes
While cakes are cooling, prepare the glaze by combining powdered sugar, milk, and lemon juice. Mix until smooth
Drizzle glaze over cakes
Decorate with Mardi Gras sprinkles, and enjoy!
View on BBQGuys.com