View on BBQGuys.com
Tin Roof Beer-Brined Pulled Pork Tacos Recipe with Pineapple Slaw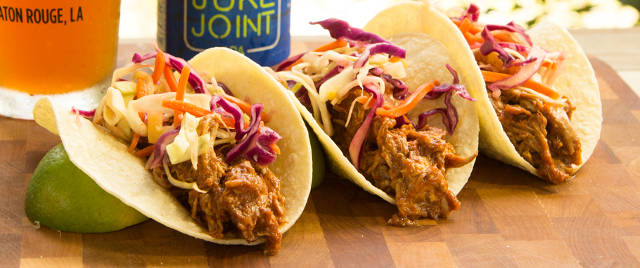 Want to infuse your favorite beer into your next smoked pork shoulder? In this recipe, you'll learn how to make a beer brine for pork, resulting in incredibly juicy and flavorful pulled pork! After brining, we put the pork shoulder on the Primo Oval XL Kamado and smoke it low and slow until it is super tender. We'll also make some fresh grilled pineapple slaw that will add some great crunch to the tacos!
SERVES

15 - 20

COOK

6 - 8

hours
INGREDIENTS
Pork bone-in shoulder roast (5-7 lbs.)
20-pack soft white corn tortillas


For Brine:
1 each yellow onion, diced
1 qt (32 oz.) water
5 12oz-cans (60 oz. total) Tin Roof Juke Joint IPA (or your favorite IPA)
1 cup kosher salt
1/4 cup granulated sugar
1 Tbsp white peppercorns, crushed
1 Tbsp black peppercorns, crushed
6 each bay leaves
1 Tbsp fresh sage leaves, roughly chopped
3 Tbsp rosemary, roughly chopped
1 each orange, quartered
1 each lemon, quartered
1/4 cup honey


For Slaw:
1/2 head shredded green cabbage
1/2 head shredded purple cabbage
2/3 cup grated carrots
2 each fresh squeezed lime juice
1/2 pineapple, grilled and diced (baste in butter and sprinkle with sugar)
1/4 cup coconut sugar
1/4 cup Tin Roof Juke Joint IPA (or your favorite IPA)
Kosher salt, to taste
Black pepper, to taste


Things You'll Need:
Brine Procedure
In a sauce pan over medium heat, melt a little butter and sauté diced yellow onion until it is caramelized.
Pour in 16 ounces of water.
Squeeze in the juice of a fresh orange and lemon, throw peel into brine when squeezed.
Add in sage, rosemary, black and white pepper.
Stir in salt, granulated sugar, and honey until totally dissolved.
Turn off burner.
Complete the brine by pouring in 16 oz. of cold water and 5 12oz. cans of your favorite IPA beer.
Cool brine before adding pork shoulder.
Add pork shoulder and allow it to brine for 12 hours.
Slaw Procedure
While pork brines, mix up the slaw, it is best to let it refrigerate for a few hours to allow the flavors to meld.
Slice 1/2 of a pineapple into long pieces and baste with unsalted butter. Sprinkle pineapple with coconut or brown sugar.
Squeeze in the juice of a fresh orange and lemon, throw peel into brine when squeezed.
Grill pineapple over medium heat until sugar caramelizes.
Cool pineapple and dice for adding to the slaw.
In a large mixing bowl, add purple and green shredded cabbage.
Add in remaining ingredients, tossing frequently to incorporate.
Place slaw in the fridge to marinate until ready to serve.
Pork Shoulder Procedure
Once brined, remove from pork shoulder from the brine and pat dry.
Preheat your grill to 225°F.
Add 5 chunks cherry smoking wood.
If using a kamado grill, place heat deflector plates in, and put a drip pan on the deflector plates beneath the cooking grids.
Pour 2 cans of the beer you used in the brine into the drip pan for added flavor and moisture.
Place the pork shoulder on the grill, close the lid and allow it to cook for about 3 hours.
After 3 hours, check the internal temperature of the roast. If the roast is 165°F internal, it is time to remove it and wrap it in a layer of parchment and double wrap in aluminium foil.
Return the wrapped pork shoulder to the grill and let it cook until it reaches an internal temp of 190°F, this should take about 3-4 more hours.
Remove the pork shoulder from the grill once it reaches 190°F, allow to rest for 30 minutes to an hour.
Shred pork in a large pan, pour in bbq sauce and toss to coat. I used my Homemade Tin Roof Amber Ale Beer-Infused BBQ Sauce.
Warm tortillas and assemble tacos with pulled pork and top with slaw.
Serve, and enjoy!
Grillabilities : The Skills to Grill
---
How to Use BBQ Rubs

Bringing more flavor to your BBQ is as easy as 1, 2, 3!

How to Grill with BBQ Sauce

Grilling with BBQ sauce can be tricky - you don't want to burn the sauce, or leave the food too sticky to handle. Learn the tricks to using BBQ sauce here!

How to Baste

Follow a few simple tips and you can delight your diners. Anybody for seconds?
View on BBQGuys.com